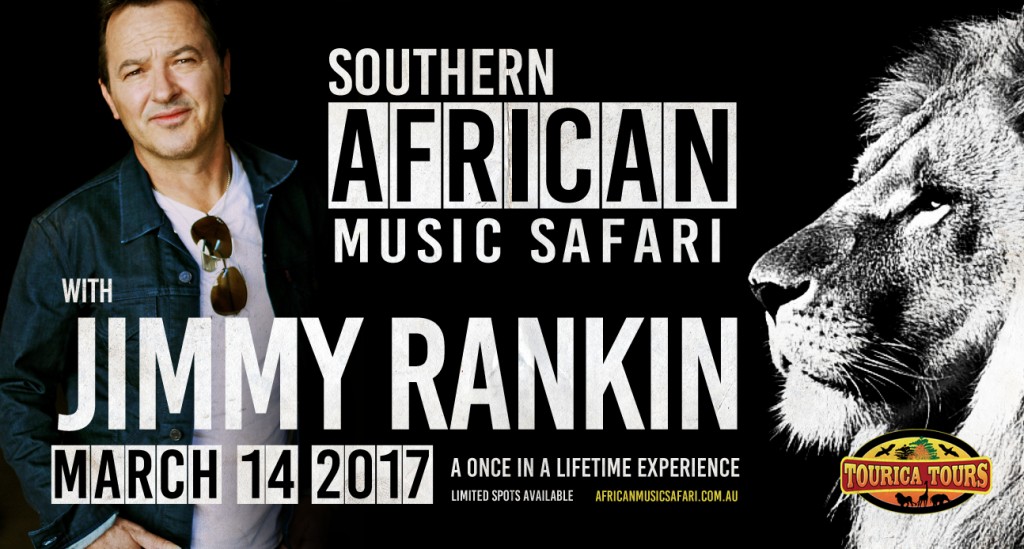 15-DAY TRIP TO INCLUDE PRIVATE PERFORMANCES BY RANKIN, AUTHENTIC AFRICAN SAFARI

TICKETS AVAILABLE FOR PURCHASE MARCH 14, 2016
MARCH 18, 2016 (Halifax, NS) – Canadian roots artist and perennial fan favourite Jimmy Rankin has announced his most unique tour to date. Scheduled to begin in Cape Town on March 14th, 2017, this 15-day run of private shows will take place within the African wilderness, providing fans with an authentic African safari experience.
Partnering with Tourica Tours, Rankin has created an adventure that will see guests experience the beautiful Mother City of Cape Town, game viewing in a large five-game reserve, the mighty Victoria Falls (one of the seven natural wonders of the world) and much more.
Currently on sale, tickets include all accommodation (twin share), access to all private Jimmy Rankin performances, all meals, internal flights/transfers, confirmed activities (including above mentioned outings), game drives and access to a 24-hour travelling host. With a limited number of tickets available, fans are encouraged to purchase now.
Recognized as one of the most entertaining and respected Canadian artists in the recording industry, Jimmy Rankin's career boasts multi-platinum sales and numerous industry awards for his work as front man for Celtic- Pop heroes, The Rankin Family, and as a marquee Canadian solo singer/ songwriter. A dynamic live performer with broad demographic appeal, Rankin's shows draw from an impressive catalogue of hits, moving effortlessly between roots, country and pop stylings.
For more information or to reserve a spot on the Jimmy Rankin Southern African Music Safari, visit www.africanmusicsafari.com.au.
The full press release can be found here.
Media Contacts:
For Tourica Tours: Matt Collins | matt@touricatours.com | +61 3 9798 8002
For Jimmy Rankin: Dara Conrod | dara@rgkentertainment.com | 416.718.6541