24 STOPS ACROSS CANADA THIS FALL
OTTAWA, SASKATOON, REGINA, CALGARY + MORE
SELECT ATLANTIC DATES THIS SUMMER
STREAM + PURCHASE MOVING EAST HERE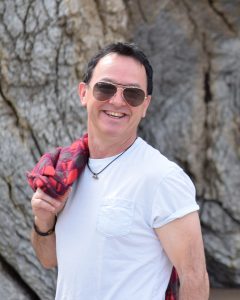 (May 28, 2019 – Toronto, ON) – Legendary Canadian songwriter & musician Jimmy Rankin announces today that he will be taking the sounds of Cape Breton across Canada in Fall 2019. The "Songs From Route 19″ tour is set to feature songs from his 7th and latest album Moving East (True North Records), beloved solo hits and Rankin Family classics. This summer, he plays a handful of dates on the Atlantic coast then hits the highway with 24 stops throughout Ontario, Saskatchewan, Alberta, and British Columbia between September 20 and October 26. Tickets go on sale HERE on May 29 at 12:00pm ET. Full routing below.
Moving East captures the beauty, joy and mystery of Cape Breton, inspired by Rankin's decision to move from Nashville back to Nova Scotia. Produced by fellow Nova Scotian Joel Plaskett, the music is a homecoming album featuring true stories, tall tales and bittersweet ballads, and the classic folk-rock sound that Rankin helped pioneer. Settling down in Plaskett's New Scotland Yard studio in Dartmouth, N.S., they assembled an all-star team of East Coast talent, including string monster J.P. Cormier, fiddling sensation Ashley MacIsaac, and old-school Cape Breton pianist Hilda Chiasson. Appealing to young and old alike, these songs run the gamut from gritty pub tunes to soulful ballads all featuring great storytelling, and fine songwriting. "It's the kind of record you'd listen to when you're hanging out in your kitchen or at a pub," says Rankin, "mixed tempos, some good sing-along drinking songs, and a nod to old style, lo-fi Cape Breton fiddle."
Rankin is a true original in Canadian music. At a time when people are searching for authentic cultural voices, who tell strong stories and write well-crafted songs, he is bringing that East Coast excitement on the road. "I'm putting the party back in the kitchen" quips Rankin. "Growing up we used to have, for lack of a better term, kitchen parties," he shares. "Friends would come to the house and we would entertain them…singing, guitars, fiddles, dancing, stories, good cheer, that kind of thing. Then there were the dance halls, taverns, a lot of back road driving and carousing, so goes life in rural Cape Breton. These songs are an homage to that culture."
On the "Songs From Route 19″ tour – named after the highway that runs through the Western side of Cape Breton – folks can expect to hear Jimmy Rankin favourites that have made the Cape Breton sound world-famous, like "Followed Her Around," "Morning Bound Train" and "Cool Car." Then there are those Rankin classics that Jimmy wrote for the First Family of Cape Breton, The Rankins: "North Country," "You Feel The Same Way Too," and the song voted the #1 East Coast song of all time by CBC listeners, the Juno Award-winning "Fare Thee Well Love."
Jimmy Rankin, who cut his teeth on stages in and around his Cape Breton Island home, has established himself as one of the most hard-working and respected Canadian artists in the recording industry. Rankin's career boasts multi-platinum sales and numerous industry awards for his work with The Rankin Family, as well as his five critically acclaimed solo records: 5 JUNOs, (including prestigious Entertainer of the Year), 27 East Coast Music Awards (ECMAs), 9 SOCAN Top Radio Play awards, 2 Music NS Awards, 2 Canadian Radio Music Awards (CRMAs) including Best New Solo Artist – Adult Contemporary, and 7 Canadian Country Music Awards (CCMAs), including 2011 & 2012 Roots Artist of the Year. He has released 6 critically acclaimed albums + Moving East which debuted at #2 on the iTunes singer songwriter chart. He has toured with Keith Urban and John Prine.
Tour Dates:
06/28 – PEI Jazz & Blues Fest – Charlottetown, PE
07/01 – KIRA Amphitheatre – Saint Andrews, NB
07/06 – Pictou Lobster Carnival – Pictou, NS
07/13 – Port Hawkesbury Civic Center – Port Hawkesbury, NS
09/20 – Mary Webb Center – Highgate, ON
09/21 – The Sanctuary – Ridgeway, ON
09/25 – Starlight Club – Waterloo, ON
09/27 – Algonquin Commons Theatre – Ottawa, ON
09/28 – Sharbot Lake Country Inn – Sharbot Lake, ON
09/29 – Doghouse Studios – Napanee, ON
10/01 – Ingersoll Theatre of Performing Arts – Ingersoll, ON
10/02 – Peter's Players – Gravenhurst, ON
10/03 – Lester B. Pearson Civic Center – Elliot Lake, ON
10/04 – Sault Community Theatre Center – Sault Ste. Marie, ON
10/08 – Gold Horse Casino – Lloydminster, SK
10/09 – Geomatic Attic – Lethbridge, AB
10/10 – Geomatic Attic – Lethbridge, AB
10/11 – The National Music Center (Studio Bell) – Calgary, AB
10/12 – The National Music Center (Studio Bell) – Calgary, AB
10/15 – Sid Williams Theatre – Courtenay, BC
10/16 – The Port Theatre – Nanaimo, BC
10/17 – Chief Sepass Theatre – Fort Langley, BC
10/18 – The Rex Hall – Kamloops, BC
10/20 – Jeanne & Peter Lougheed Performing Arts Center – Camrose, AB
10/22 – Horizon Stage Performing Arts Center – Spruce Grove, AB
10/24 – The Bassment – Saskatoon, SK
10/25 – Artisan On 13th – Regina, SK
10/26 – Lyric Theatre – Swift Current, SK
Download Moving East cover art: http://bit.ly/2OTzczK
Website | Facebook | Twitter | Instagram
###
For press inquiries contact:
Listen Harder Music Publicity
Jessica Santa | jessica@listenharder.com
2938 Dundas St. W., Toronto, ON M6P 1Y0
Management:
Mia Nishi Rankin | Song Dog Music Co. Ltd.
T: (615)973-6427 | miarankin@gmail.com