MEDIA RELEASE
JIMMY RANKIN ANNOUNCES FALL TOUR

NEW ALBUM BACK ROAD PARADISE AVAILABLE NOW
FEATURES DUETS WITH GRAMMY WINNER ALISON KRAUSS AND BLUE RODEO'S JIM CUDDY
CANADIAN TOUR KICKS OFF OCTOBER 3 IN NOVA SCOTIA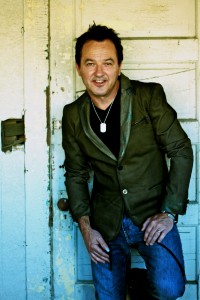 (Photo by: Mark Maryanovich)
" [Back Road Paradise] has a polished sheen to its songs, upbeat and hook-filled, underscored by country touches like fiddle and pedal steel….Back Road Paradise's lively new songs are destined to become onstage favourites." – Chronicle Herald

"…the catchiest batch of tunes Rankin's ever written, with all the hallmarks of what he does: Smart lyrics, great vocals, perfectly crafted songwriter material, couched ina bigger, modern country sound…It's the best vocal album he's ever done." – CBC

(SEPTEMBER 15, 2014) Canadian roots artist and perennial fan favourite JIMMY RANKIN is set to embark on a 24-date Fall tour this October and November, hitting multiple stops within Nova Scotia, Prince Edward Island, Manitoba and Saskatchewan. The tour kicks off in Lockeport, NS on October 3, 2014 and is in support of Jimmy's 6th solo LP Back Road Paradise, available now on Song Dog Music/Fontana North. Says Jimmy, "We've gotten so much positive response to the songs on this album and lots of requests for more shows within various provinces… we're digging deep with more tour dates in those places." See below for detailed tour dates.
Back Road Paradise features 12 brand-new Rankin compositions, including the hit single "Cool Car" and duets with Grammy winner and bluegrass icon Alison Krauss, as well as Blue Rodeo's Jim Cuddy. The LP has enjoyed much critical acclaim, and first single "Cool Car" ranked #2 of CMT's most popular videos. The album's follow-up track, "Whiskey When The Sun Goes Down" was just released and has been rapidly climbing the Country charts. The official video for the single was recently shot in Vancouver by award-winning director, Stephano Barberis, and will be released later this month.
Jimmy Rankin has established himself as one of the most entertaining and respected Canadian artists in the recording industry. His career boasts multi-platinum sales and numerous industry awards for his work as front man for Celtic-Pop heroes, The Rankin Family and as a marquee Canadian solo singer/ songwriter. A dynamic live performer with broad demographic appeal, Rankin's shows draw from an impressive catalog of hits, moving effortlessly between Roots, Country and Pop stylings.
FALL/WINTER 2014 CANADIAN TOUR DATES:
10.03 – Lockeport, NS @ Lockeport Regional High School
10.04 – Pictou, NS @ deCoste Centre
10.07 – Berwick, NS @ Union Street Cafe
10.08 – Truro, NS @ Marigold Cultural Centre
10.09 – Mabou, NS @ Strathspey Place
10.10 – Guysborough, NS @ Chedabucto Place Performance Centre
10.11 – Charlottetown, PE @ Confederation Centre of the Arts
10.19 – Brandon, MB @ Western Manitoba Centennial Auditorium
10.20 – Estevan, SK @ Estevan Comprehensive High School
10.21 – Redvers, SK @ Redvers Recreation Centre
10.22 – Kipling, SK @ Kipling Community Centre
10.23 – Moosomin, SK @ Moosomin Community Theatre
10.24 – Langenburg, SK @ Langenburg Community Theatre
10.25 – Preeceville, SK @ Preeceville Legion Hall
10.26 – Wadena, SK @ Wadena Community Legion Hall
10.28 – Hudson Bay, SK @ Brooks Hall
10.29 – Canora, SK @ Canora Composite School
10.30 – Kamsack, SK @ Kamsack Playhouse
11.01 – Indian Head, SK @ Grand Theatre
11.03 – Weyburn, SK @ The Cugnet Centre
11.04 – Deloraine, MB @ Deloraine Winchester Theatre
11.06 – Snow Lake, MB @ Snow Lake Community Hall
11.07 – The Pas MB, @ The Kelsey School
11.08 – Thompson, MB @ Letkemann Theatre
12.07 – Wolfville, NS @ University Hall

Link to hi-res press photo: http://listenharder.com/hires/Rankin_Press2014_Photo_by_Mark_Maryanovich.jpg
###
For more information, interview opportunities, and digital images, please contact:
Listen Harder Music Publicity | 647.345.0680
Cristina Fernandes | cristina@listenharder.com
Jen Cymek | jen@listenharder.com
2938 Dundas St. W. 
P.O Box 70704 Junction Gardens PO
Toronto, ON M6P 1Y0
For our roster, visit: http://www.listenharder.com
Follow us on Twitter: @ListenHarderPR