Jimmy will be setting out across select Needs Convenience Stores in Nova Scotia, along with The Chronicle Herald, to promote the upcoming Backyard BBQ contest being hosted by the Herald. These visits offer fans in various locations the opportunity to meet Jimmy, grab a copy of his newest release Back Road Paradise (sold at Needs), and even get Jimmy to sign it for them! Visitors can also register for the Backyard BBQ contest on-site.
Starting Thursday June 12 and running until Saturday June 14, Jimmy will be visiting Needs locations in Sydney, Baddeck, Truro, Kentville, Halifax and Bedford. The following photo lists specific dates and times for each location: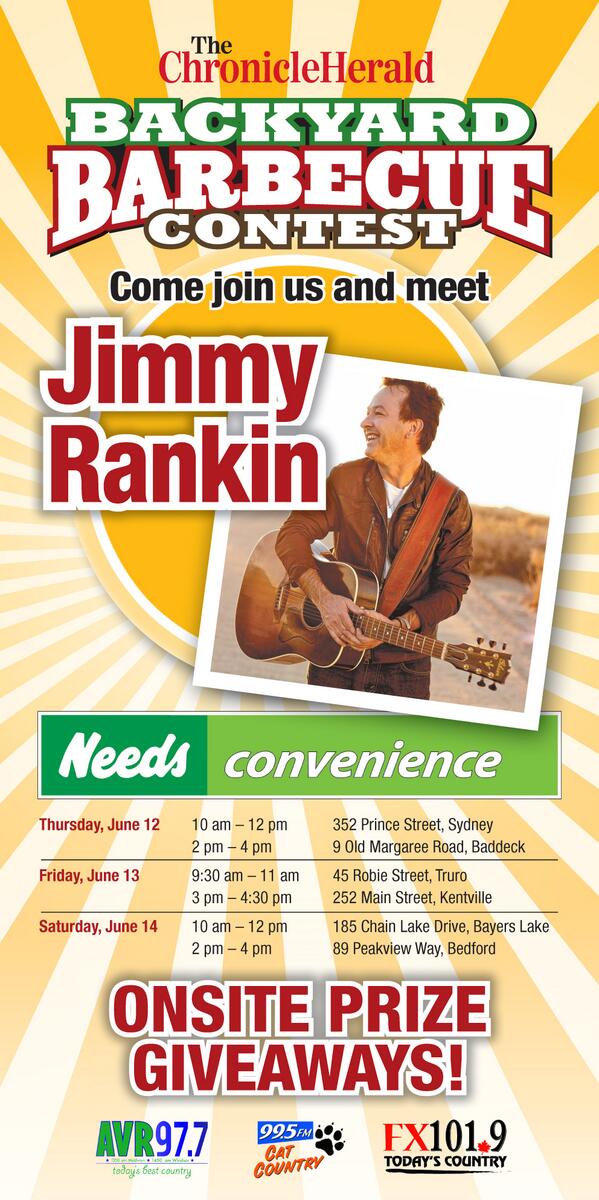 The Chronicle Herald has teamed up with Needs Convenience Stores to offer an unbelievable contest to Nova Scotians. The lucky winner of the Backyard BBQ contest will win a brand new BBQ and a private performance by Jimmy himself. "You and 19 friends could be jamming to Jimmy Rankin as he performs in your very own backyard while a professional chef serves up burgers, salads, hotdogs and more cooked to perfection on a new Weber Genesis Gas Grill that you get to keep!"
You can also enter the contest online by visiting the Chronicle Herald's Backyard BBQ Contest page. The contest ends June 24, 2014, so be sure to enter today!